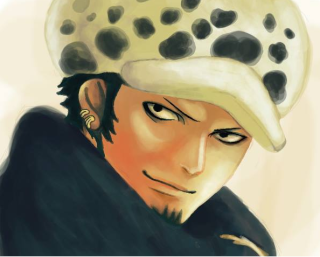 Name: Bartolomeo Jr.
Real name: Trafalgar Law
Nickname: "Law"
Height: 6'2"
Weight: 206 lbs
Alignment: Tweener, more pointed towards heel.
Facial/Head/Body Details: Black/Brown deep eyes, average-sized nose and has a sideburn connecting to his chin hair, has low spiky hair and two golden earrings on his right ear, mostly wears his hat, with white and little bits of black over, has tattoos all over his body...
In-ring Appearance: Long black jeans with belt, a tank black top and wrestling shoes, he doesn't wear his hat while in the ring.
Bartolomeo without his hat: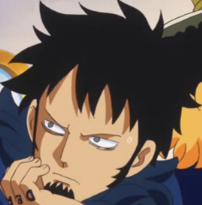 Finisher(s) : None
Trademark(s) : None
Backstory: Trafalgar Law was raised by his father.. Bartolomeo, a retired, famous wrestler who didn't want his son Law going into wrestling, forcing him to go to school and made him really sheltered, this didn't quell Law inside... it only made him more interested to learn about the outside world, but Law's fathers attempts at keeping him sheltered has succeeded until he finally passed away, at the age of 16, Trafalgar Law had medical knowledge but with his fathers remaining wealth at his disposal, he decided to go out and taste the world, particularly in shady neighbor hoods, living life to the fullest... he committed crimes such as robbery, bar fights and such, Law easily beat down every man that he fought mostly in the bars, Law started to realize his wrestling blood actually meant something, despite his dads fortune, Law had a taste for fame, he wanted to be known everywhere and anywhere through any means necessary, being a doctor wouldn't of made him known unless he wants to somehow find cure for cancer, or he didn't want to be known as the shadiest guy in the shady neighborhoods, so he decided to continue his fathers legacy and become a second-generation superstar going by his old name and adding junior to show he is the son of a famed superstar, Bartolomeo Jr, he has joined multiple federations and has caused a lot of chaos among them he was fired among many, Trafalgar wasn't going to be accepted anywhere else except CEW, other federations GM's think AJ skills has the right environment and the right members to quell down Trafalgars thirst for chaos and atrocities for fame, he is nicknamed as "Law" because he has enforced his reputation and has kept his name in check everywhere he has been so far, he isn't too well known yet, he uses his name to keep other members of previous federations in fear and in check, keeping them in "Law"
Noob





Posts

: 10


Join date

: 2015-12-12





Similar topics
---
Permissions in this forum:
You
cannot
reply to topics in this forum